As part of this month's look into Circle's inspirational, but sometimes over-looked, work with Social Work students we were lucky enough to meet the staff, as well as some current students on placement, that make this project so successful. Read on for an interview with the Project Manager:  
Hi Fiona, can you tell our supporters a little about the role you play at Circle? ​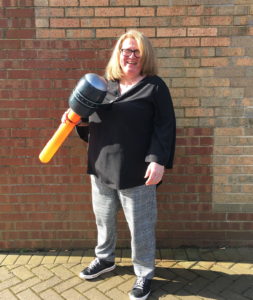 Hi, I'm Fiona Burness and I am the Practice Learning and Development Manager. I co-ordinate all the student placements for Circle and act as a practice teacher for some of the students on placement which means I usually supervise two students at any given time. I also organise three staff development days per year. 
Thanks. For anyone that doesn't know what the Practice Learning Project is could you give us some background on it?
Believe it or not, Circle has delivered a Practice Learning Project for at least the last 40 years. My own personal connection to the project started in 2015. While I was a Family Outreach Worker in the Harbour project, I undertook my own practice teaching qualification. This qualification is necessary if you are going to supervise students during their placements. Initially, as a Family Outreach Worker (FOW) at Circle, I supervised three students over a couple of years and then, in July 2017, I applied for, and got, the Practice Learning and Development Manager post. What was supposed to be a temporary position for a year, while the post holder was on a secondment, has now lasted over two years. In that time I have personally supervised 10 students to advance their studies with us.
Wow, over 40 years?!? How many students do Circle welcome in each year? And do you have any idea how many students have been at Circle in total? 
Well we now offer placements for roughly 15 students per year, depending on how many of our staff members have the practice learning qualification, and I know that since 2006 Circle has had 319 Social Work students on placement, this is a combination of first, final and observational placements. I couldn't tell you how many students we've had since we first started but it could be over 600 or 700. 
No wonder Circle is so well known in the sector then with so many Social Workers having spent time with us. Where do most if the students come from? 
We offer placements to universities across Central Scotland including Edinburgh University, Stirling University, Edinburgh Napier University, The University of the West of Scotland and the Open University.
Recently Circle hired a new member of staff who had recently completed a placement with us, is it common for Circle to recruit students who have been on placement here? 
Over the years Circle has regularly employed ex-students to the organisation and recently we actually employed three students at the end of their placement two of whom currently still employed with us. A number of other long-standing staff members also started as students here.
We are actually really proud of the fact that so many of our ex-students apply for jobs here as and when they qualify. We think it demonstrates the positive, and supportive, atmosphere we have here. 
For anybody considering entering into, or are currently studying, a Social Work qualification do you have any words of wisdom for what to expect on their first placement?
At Circle we encourage all students to be open to learning from every opportunity provided to them and never be afraid to ask questions from the staff around them. During the early days of placement there are a lot of discussions and exercises in supervision where the students are encouraged to link their academic knowledge to the parents or children they are supporting. This can be a difficult and anxious time for students; one of the most pleasing times supervising a student is when they have that light bulb moment and are able to make the links between university and practice. 
Fiona, thanks for your time, before we let you get back to the day job could you give us some insight into why you believe the Practice Learning Project is so important, what challenges will the students we teach now face in the future as Social Work professionals and are the challenges changing or have they always been the same? 
Personally, I feel the Practice Learning Project is important as it is contributing to the development of the future workforce within health and social care. It also benefits Circle as all students come into placement with up to date knowledge of research and policy in the ever changing landscape which can be disseminated among the staff team.
As for the sector and the future challenges we all face I would say that from my experience of working with some of our country's most marginalised groups the biggest challenge for professionals, and of course those children, parents and families we support, is austerity. Very simply there are more and more families negatively impacted by persistent poverty and the implications it has on both physical and mental health. And the problems are getting worse, not better, as the funding to support them is being continually cut.
Thank you Fiona and good luck with preparing the next group of Social Workers.
If you are interested in anything mentioned above, including finding out more about Circle's work with social work students then please don't hesitate to contact Fiona at Fiona.Burness@Circle.Scot. 
And don't forget to check out the other interviews with staff members who were formally students and two students currently on placement at Circle as well.