We provide support through a range of different services and groups.
Haven Project, North Edinburgh
Based in Craigroyston Primary School, this project offers a mix of whole family support and group work.
Outreach Support:
We provide short term support to families with children aged 0 – 5 years. The Outreach Workers alongside the parents will identify key practical and emotional areas for support such as baby-led weaning, baby massage, parenting support, managing health appointments and accessing community groups.
Groups:
Haven Babes: for new-borns to 6 months old. This group provides a relaxed and welcoming space for parents and their babies. Support and advice are offered alongside activities including sensory materials, treasure baskets and singing.
Baby Massage: suitable for parents/carers and babies from 6 weeks to 5 months old. Baby massage strokes are taught over five weeks and can alleviate colic and constipation and promote bonding.
Baby Brunch: for families with babies aged 6 – 12 months. We promote baby-led weaning and offer a nurturing and supportive space for parents.
Incredible Years: for families with children aged 3 – 6 years. Incredible Years is a 14-week course for parents/carers aiming to strengthen their relationship with their child, introduce routines and boundaries and encourage positive behaviours.
Contact:
Julie Calder, Family Outreach Worker
Tel:
0131 332 9269
Pregnancy Support, East Lothian
Our service supports mothers in East Lothian affected by substance use through their pregnancy. (see Families Affected by Drugs & Alcohol)
Contact:
Angela Gentile, Project Manager
Tel:
07775 409302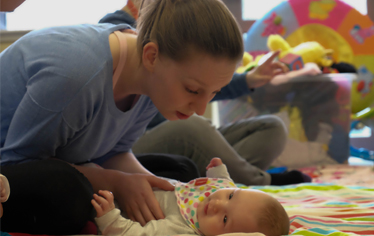 ...the worker has helped me with overall parenting skills, positive encouragement and recognises changes I have made.
My worker is very friendly and gives me good advice.