5 years of DARED!

"Thank you DARED for helping me find my running mojo again, whilst helping out an amazing charity. Been such a busy month and it could have been so easy not to do any exercise because of that, but thanks to The DARED Challenge,  I've been outside everyday and I feel so much better for it!" DARED Participant 2022
Our annual DARED challenge is over for another year!
In its 5th year, DARED (Do A Run Every Day), has raised an amazing £12,300 for Circle's children and families. This brings the total amount raised from DARED to almost £90,000 over 5 years, and we are so grateful for all our participants who have helped us get to this stage.
As my first year organising DARED, I was so inspired by the amount of positivity and energy that participants have for the event, as well as the support and motivation provided by the DARED Community. It was amazing to see so many runners take part in the Social Saturday events, Forth Road Bridge Midnight Run, people running dressed up as superheroes, and the DIY finish lines created by participants. I'm looking forward to DARED 2023 already!
On top of all your favourite parts about DARED, we decided to bring in some new exciting aspects to the event to celebrate its 5th year, including:
Team Sign Ups
A brand-new challenge, on top of 1 mile and 5km challenges
New Merchandise
A brand-new Welcome Pack
Our first group of DARED Champions
Teams: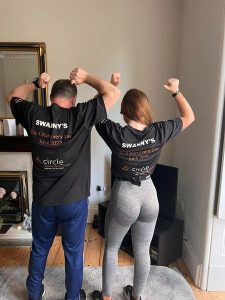 We know that many of our participants like to take part in DARED with friends, family members, or colleagues, so we decided to give participants the ability sign up as an official team through the Eventbrite registration.
By selecting the team option, participants were given their very own page to invite friends to with a unique link for them to join. We also offered a small incentive for every team that managed to get 5 or more participants signed up, by printing their team's name on the back of their t-shirts.
We had 9 teams signed up overall, including 2 corporate teams, sport teams, family teams, as well as our very own Circle team, made up of staff who wanted to take part.
The teams worked really well, giving participants an extra boost of motivation by their team mates, as well as introduced some friendly competition between teams in our weekly fundraising league table.
A huge well done to our top fundraising team, Burness Paull, who raised £2,260 for Circle's children and families.
To read more about Burness Paull's participation, visit: https://www.scottishlegal.com/articles/burness-paull-trainees-raise-over-ps2000-for-circle-scotland 
Brand new Challenge- DARED To Be Different:
For the past 4 years, participants have been able to choose from two distances- 1 mile, or 5km a day. However, based on feedback from participants, we decided to introduce a new way of taking part in DARED, that offers even greater freedom, and makes the event more inclusive of all fitness abilities.
The new DARED To Be Different challenge gives participants the chance to set their own challenge, based on their personal needs, capabilities, and availability. The challenge still involves doing a run every day, but really allows participants to push themselves to their OWN limits- whether that is more than 5km a day or less than 1 mile- to make DARED as accessible as possible to everyone.
We had 26 sign ups to our new DARED To Be Different Challenge, with some participants running a different route every day, setting a different weekly target, and one participant running a full circle for Circle and completing 360 miles across the month of June!
"Really enjoying Dared To Be Different! Thanks, Circle, for giving us that option this year"

– DARED To Be Different Participant 2022
Merchandise- new buffs!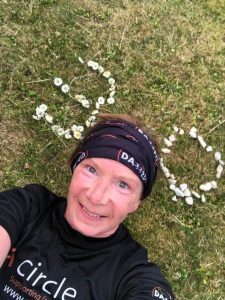 Last year, we really finalised our logo and we are delighted with the way our branding has been established for DARED. On top of the t-shirts and medals this year, and after popular request from participants, we designed our very own DARED buffs!
Take a look at how great our participants look in them!
However, just because the event is over, doesn't mean you can't still purchase one of our brand-new DARED buffs! We've loved seeing our participants sporting their new merchandise, and you can get one for yourself for just £7.50.
Buffs are great for running all year round, so if you want to sport some DARED merchandise, or would like to purchase as a gift for a DARED fanatic, please get in touch at kirsten.wales@circle.scot
DARED Champions:
This year, we had our first group of official DARED Champion volunteers, who helped with the organisation and planning of the event, and providing input and ideas to help make DARED 2022 as successful as it could've been.
Our Champions played a huge role in recruiting participants, helping us create a promo video, providing support and motivation on the Facebook Page and leading group runs throughout the event.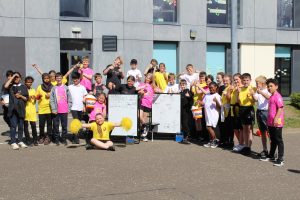 One of the champions, John Mowbray, led a DARED Day at Craigour Park Primary School, to get children and parents running together to promote the importance of exercise, whilst raising some money and awareness of Circle at the school.
Children, parents, teachers, and other staff at Craigour 'lapped the map' and ran a full CIRCLE round the perimeter of Scotland. By the end of the school day at 12.30, the runners had clocked up 1,133 miles in total!
To read more about the DARED Day, visit: https://circle.scot/dared-day-craigour-park-school/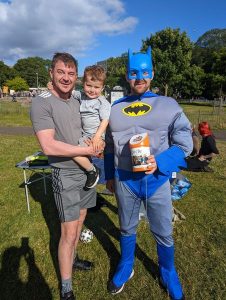 Another of our Champions, and Circle beneficiary, Jamie Wilson, even organised his own fundraiser, and dressed up in his batman costume, and ran round the meadows with one of our Circle donation tins to help maximise his fundraising for DARED.
He had teenagers stop him for selfies, and fire engines beeping at him, as well as a big group of supporters cheering him on.
If you are interested in becoming one of our DARED Champions for 2023, please get in touch at Kirsten.wales@circle.scot
We wanted to say a huge thank you to all our DARED participants, and everyone who supported them to help us raise £12,300 for our children and families. All money raised will be used over the next year to ensure those children and families most in need of intervention, guidance and support get the help they deserve.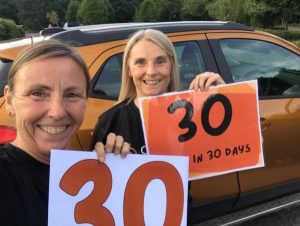 ---
If you have any questions about the work Circle is doing or would like to get more involved, then please just get in touch at Kirsten.wales@circle.scot or Darren.pike@circle.scot .
To read more about DARED through the years, visit: here
If you'd like to continue to support Circle, or get involved in more fundraising events throughout the year, visit: https://circle.scot/support-us/fundraising-events/