DARED Day- Craigour Park Primary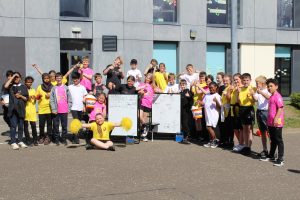 As part of our annual DARED Challenge, Craigour Park Primary School hosted an official DARED Day on Friday 10th June. The purpose of the event was to get children and parents running together to promote the importance of exercise, whilst raising some money and awareness of Circle at the school.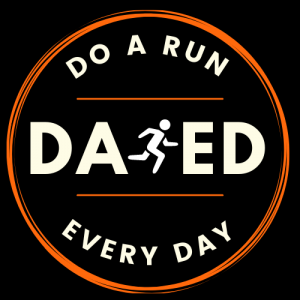 The DARED Challenge (Do A Run Every Day), is Circle's exclusive annual event, and challenges participants to run every day in June, whilst raising money for our vital work. P.E. teacher, John Mowbray, is one of our official DARED Champions this year, and was the chief organiser of the DARED Day at Craigour Park School.
If you'd like to find out more about our annual DARED Challenge, you can read all about it here: https://circle.scot/support-us/dared-challenge/
The DARED Day kicked off at 8am, with a breakfast to fuel the runners before setting off to run laps of the school.
Children, parents, teachers, and other staff at Craigour 'lapped the map' and ran a full CIRCLE round the perimeter of Scotland. By the end of the school day at 12.30, the runners had clocked up 1,133 miles in total! 
To keep the runners motivated, there was music was blasting at every corner, cheerleaders waving their pom poms, and kids had written words of motivation in chalk along the racetrack. Every child in attendance had positive things to say about the event, particularly about 'Sponge Alley,' a section of the track where students were soaking water and sponges at runners. The energy, enthusiasm and positivity of the kids, parents and everyone at Craigour Park Primary was unbeatable.
Craigour's Cheerleaders!
In total, Craigour Park raised £100 from the DARED Day, half of which will go towards their p6 school trip, and the other half was donated to Circle to help support our children and families.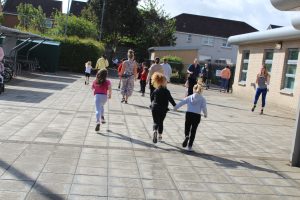 A huge thanks to Craigour Park Primary School for organising the event, and to all the kids and parents for running to support children and families across Central Scotland.
If you'd like to read more about the DARED Day, a journalist from Edinburgh Live wrote all about it here: https://www.edinburghlive.co.uk/news/edinburgh-news/edinburgh-schoolchildren-run-all-way-24194083
---
Along with the runners at Craigour Park School, we have 140 participants signed up to the DARED Challenge this year. If you'd like to support them, and help us reach our £10,000 target, you can donate through the JustGiving page: https://www.justgiving.com/campaign/TheDAREDChallenge2022