Hi Sarah!
Before we start the serious questions lets break-the-ice a little and get to know you better. 
What's your favourite book/film and why?
My favourite book at the moment is Facing your giants by Max Lucado. I find it so inspiring and when reflecting on my own struggles, the book helps me a lot. I don't watch TV very often but when I do I love to get lost in a good Marvel movie, so it'd have to be Wakanda forever! I love how the sister is able to stand up to the black panther and make such a difference. Plus, it's great to get lost in my imagination from time to time.
Thanks Sarah! What is your favourite meal and why?
Oh gosh to choose one is difficult, I wish pudding could count as a choice here, but I'd have to say cottage pie & vegetables would be a winner!
---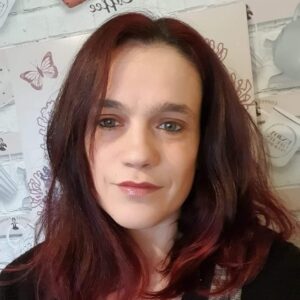 Thanks Sarah! Now moving onto some more serious questions…tell us a little about your journey that has led you to working for Circle, for example your previous roles, qualifications, or experiences.  
It's been such a journey coming to this point in my life, and my role as a Peer Support Worker with Circle. I've had my own personal experiences with trauma and substance use in the past, and after a good few years of trying to work through my own history, I realised I had a real passion for supporting others who face similar struggles.
After lockdown restrictions lifted, I decided I wanted to pursue my passion and I went back to college as an Adult Returner, alongside various volunteering roles. I decided I wanted to continue in education to go to university, and I will start my HNC in social work this year. A friend of mine had mentioned the opportunity to offer Peer Support with Circle and I jumped at the opportunity to apply. Here I am, living out what was once a dream.
What excites you the most about for working for Circle? 
The opportunity to be able to walk alongside people in their journeys. Recovery in all forms can be very lonely and if being able to say you aren't alone and show this through both my role and life experiences, then it's a win. It's the start of another journey for me and that's exciting.
What will your specific role entail/what are you going to be doing and who will you be working with? 
As Peer Support Worker, I'll be working directly with parents, offering emotional support and guidance, as well as anything I can do practically to support them in taking the next step in their journey. I will be attending groups to connect with parents in a way that works for them. This is a brand new role, so it's an exciting opportunity to see what works for the parents we support, whilst being flexible to support them through their recovery in individual ways.
Thanks Sarah! And finally, if you could click your fingers and change one thing (societal, financial, political) that would instantly help the families you support, what would it be?
There's so much I wish I could change, but if I had to choose one thing, I would remove the shame and stigma that surrounds substance use and replace it with an understanding of trauma.
---
If you would like to support our fantastic staff with the vital work they do alongside children and families then you can donate here – Make a Donation – Circle Scotland
Support our Winter Campaign- Sponsor the Difference- and help keep children and families safe, warm and fed this winter- Support our Winter Campaign 
And if you would be interested in joining our team then keep any eye out on our vacancies page – Job Vacancies – Circle Scotland
---
Meet other new Circle team members here:
Ian- Introducing Ian- A New Family Outreach Worker- Circle Scotland
Douglas- Introducing Douglas- New Development Manager!
Seonaid- Introducing Seonaid- A New Family Outreach Worker- Circle Scotland 
---
Find out more about Circle's longstanding staff here:
Meet the Circle Team – Staff Insights and Interviews – Circle Scotland
Bob- A Family Outreach Worker in East Lothian- Circle Scotland