We are excited to launch Circle's Values…
To ensure that children and families are at the centre of all we do, we create opportunities for families to
participate in the development of policies, values, and services. We believe that to properly support
families to find their own solutions, it is necessary to give voice to their thoughts, concerns, and aspirations.
We've recently involved families in the creation of a new participation strategy for Circle. This strategy creates
a framework that recognises the need to involve families in a meaningful and respectful way in the
development of services and policy across the organisation. 
---
Values Introduction:
As part of the participation strategy, we consulted with families in developing Circle's new set of values, to define and guide our work going forward. 
The process explained: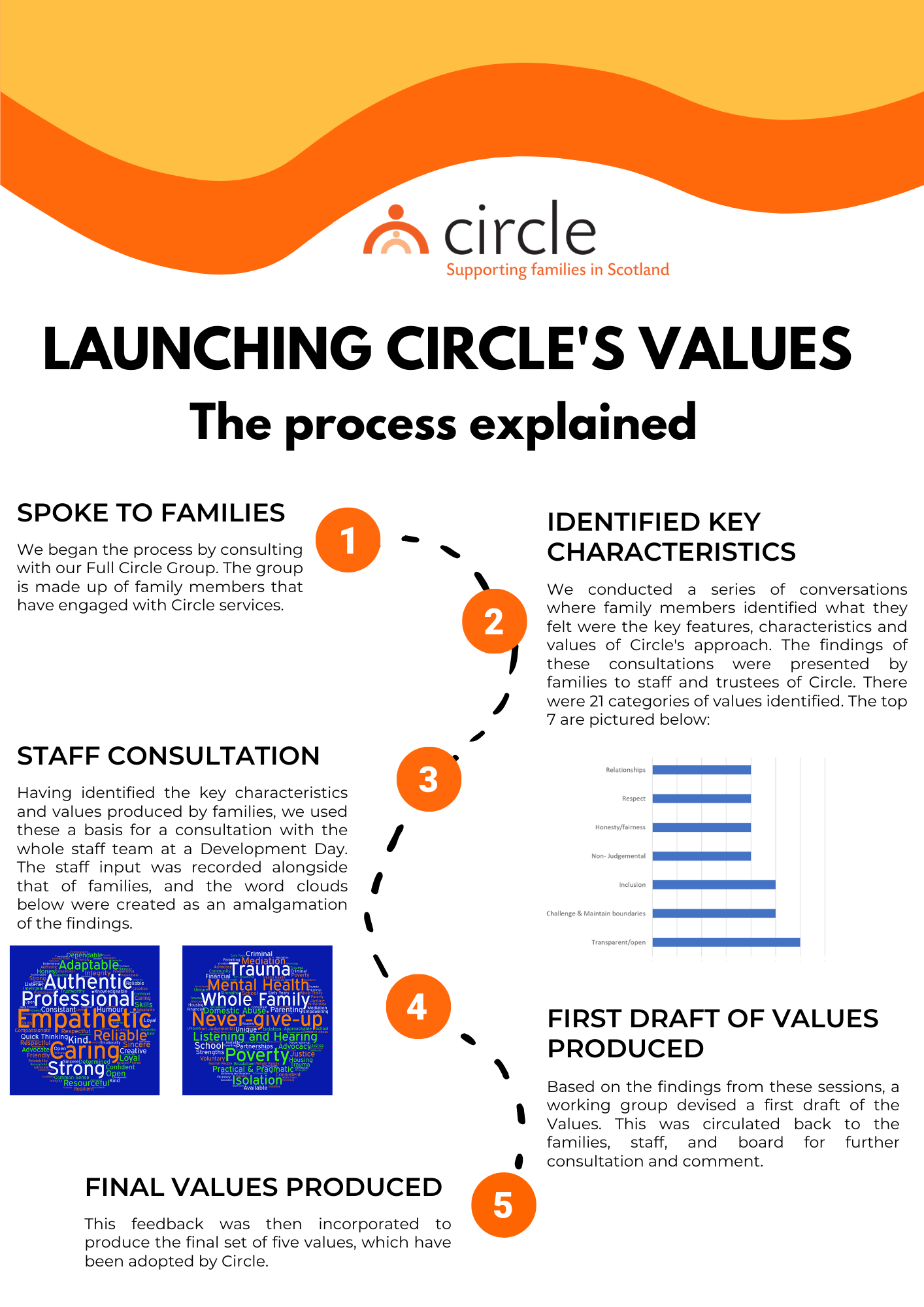 We asked families what they thought were the defining characteristics and values of Circle's work and staff, and these views formed the basis on which the values were developed with additional input from the staff in project teams, and trustees.
Families and staff have also been heavily involved in the launch process, and their stories help to demonstrate how we incorporate our values in practice. This exhaustive and inclusive process has ensured that Circle's values are truly reflective of the views of the people that know us best, the families that benefit from out services, and the dedicated staff that expertly deliver those services year in year out. 
We feel that these values capture what is unique and positive about our work and the organisation more widely. 
We are delighted to be able to announce and launch our new set of values, and we look forward to living these in all we do in the coming years. We will be releasing one of our values each day across our social media next week, so make sure you are following our pages to stay updated!
---
Inclusion:
Our Whole Family Approach means that Circle places inclusion at the heart of everything that we do. By working with the whole family, not just the individual, Circle ensures that each member feels fully included in our services,
The challenges that face each family are often unique, therefore we provide a wide range of different support systems to help meet these needs, both digitally and in person to ensure our services are as inclusive as possible.
Watch the video and listen to some of our staff discuss the ways in which Circle demonstrates inclusion within the work that we do.
Watch the video here: here
---
Empathy:
One of the young people supported by our Harbour Project, Lucy Kennie, has been recognised by South Queensferry Rotary for her contribution to her local community after she received the Outstanding Community Achievement Award.
By helping Lucy promote positive change in her own life, and supporting her in times of adversity, Circle's support has allowed her to make a positive impact on others.
To read Lucy's story, and find out more about how we take an empathetic approach, visit:  https://circle.scot/empathy-launching-circles-values/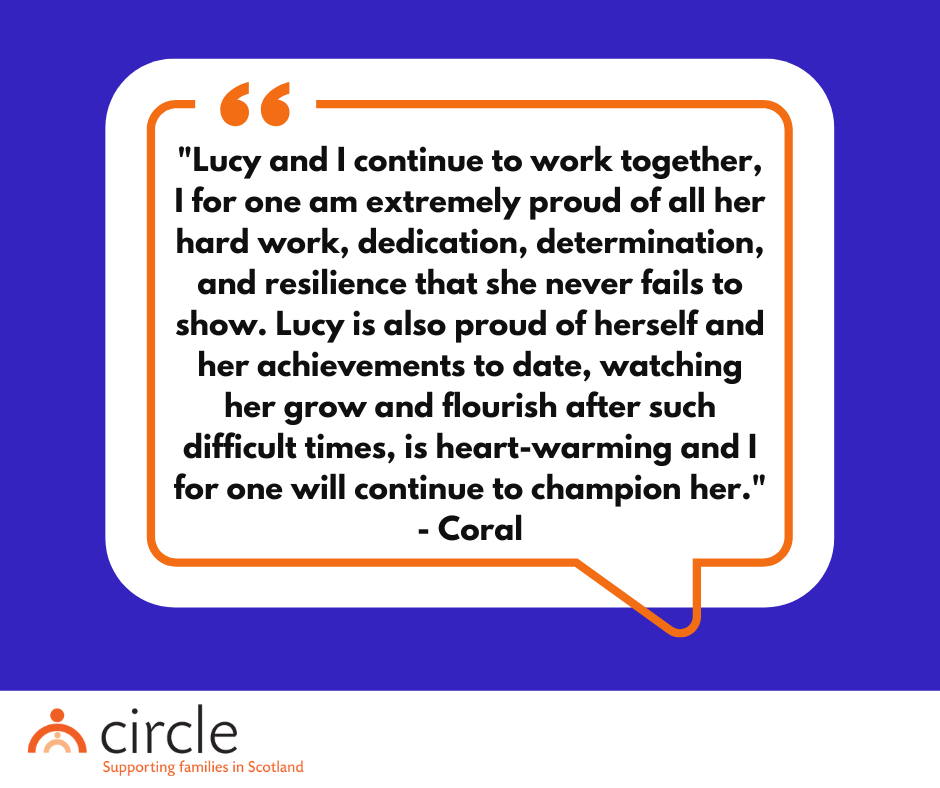 ---
Commitment:
Julie is a parent supported by our Harbour Team, and has kindly shared her story to show how we demonstrate our values in practice. Read Julie's testimonial to find out the ways in which Circle shows commitment to the families we support.
---
Empowerment:
The below is a contribution from Josie, a mother who is supported by the FABI Project in its partnership with the Shine Women's Mentoring Service. Josie has shared her story and discussed the many ways in which Circle's support has empowered her to find the self-belief to try new things, and appreciate her own strengths, which have ultimately helped her overcome challenges and get to where she is now.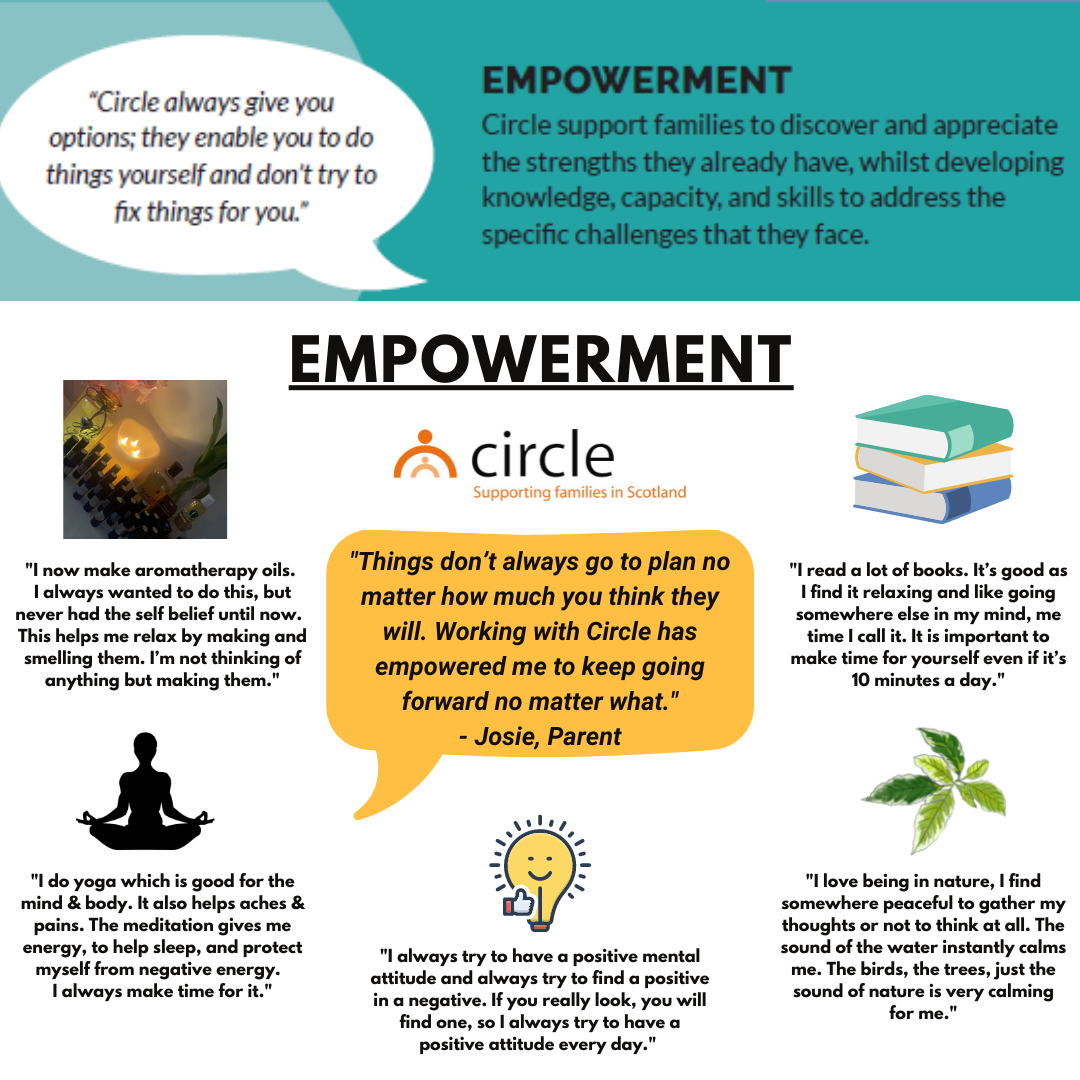 ---
Growth:

After going through the PuP course with Jan, one of our Family Outreach Workers, Nicola (parent) has developed the confidence to help her to move forward with her children and develop a strong, deeply committed relationship with them. Watch the video below to find out the ways in which Circle's support has helped Nicola grow as a mother and what it means for both her own, and her children's future.
You can watch the video here: https://youtu.be/pFqCPQeIunk
---
We hope you've enjoyed learning about Circle's values, and the way that we demonstrate them in the work we do with families. We wanted to say a huge thank you to everyone that has been involved in the process of helping to develop our values, as well as the staff and families who shared their stories to help us show how we demonstrate them in practice. It's so important to Circle that we live these values in everything that we do over the coming years.
If you have any questions about the values, please don't hesitate to get in touch.