A short update about what our projects got up to during the February holidays!
The holidays can be a tough time for families, both emotionally and financially, making Circle's services vital at this time of year. 
Alongside our support services, we've been busy going on day trips with families to create happy memories for them, and to ensure families stay connected.
---
Dynamic Earth:
The Harbour Team, in partnership with Edinburgh Recovery Activities (ERA) enjoyed a fantastic day out we had at Dynamic Earth with families. We were joined by 13 families who came along with us to see huge dinosaurs, exploding volcanoes and freezing icebergs before being launched into space to visit the moon! It was lovely to see all the children enjoying each other's company and playing with the exhibits, and it was great for parents to have some time together to talk in the February break.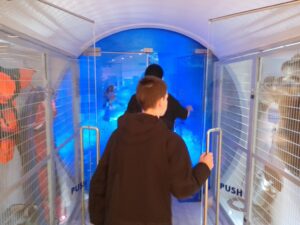 "The boys and me had a lovely day out today they really had a good time. The staff at circle really aren't like any other staff you get with charities they are all so supportive to each and every family that are there and nobody gets left behind, there's always staff around to give a hand it's honestly such a massive help I really appreciate you all, you don't get enough credit for what you do for families."-
Quote from Stacey, a mother supported by Cheryl Collins – our senior Family Outreach Worker at Harbour.
Holistic Whole Family Support Conference: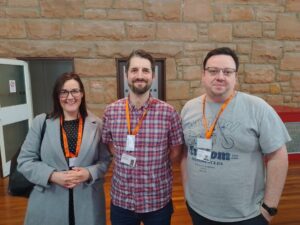 Ian and Julie from our Harbour Team, along with Alex, our Head of Operations, attended the Holistic Whole Family Support Conference, which focused on themes around employability and poverty, alongside the overarching theme of whole family support. Th e conference also made links to the importance of Keeping the Promise in Scotland.
Fife Gingerbread Project delivered an insightful workshop- 'Making it work for families '- at the conference.
Summerlee Museum:

Families supported by the FABI team enjoyed a day out at Summerlee Museum of Industrial Life. We loved interacting with all the exhibitions from showing the history of the area, exploring the mine and even the youngest members of the group got involved in building new houses!
The museum makes a great family day out and has Scotland's only operational heritage tramway, as well as a recreated mine with guided tours, miners' cottages, an exhibition hall with working machinery.
---
Support Circle's Work
Without your support our projects could not deliver the innovative, and vital, work that you have just read about. Making a lasting difference to the lives of children, and families, affected by poverty and struggling with social inequality takes time, patience and high quality staff.
Please consider making a donation that will change a life here.
Or you could take on a challenge to support our work, why not take a look at our fundraising events here-https://circle.scot/support-us/fundraising-events/
---
Want to know more?
Project Annual Reports: Circle have always been keen to share our experience and knowledge and so these reports are also used in reporting to partners, funders and local authorities. Here is a link to all of our 2021 reports :