'Do A Run Every Day' in June
Thank you for showing your interest in our Circle exclusive virtual event. Join hundreds of other runners to take on the DARED Challenge, and incorporate exercise into your daily lives, whilst supporting children and families across Scotland.
Are you ready to join us in 2023 for the 6th annual DARED Challenge event?
What is the Challenge?
The concept of DARED is very simple – do a run every day in June whilst raising money for Circle. That's it. You can run at any time of day that suits you, before work, after work, during lunch, early evening. Anytime!
This is a challenge of physical and mental stamina, requiring disciplined preparation and recovery, an accomplishment that all participants should be proud of. As well as the obvious health benefits, you will also be supporting Circle. Every penny you raise and every mile you run will go towards making a life-changing difference to children and families living in some of Scotland's most deprived areas.
Distance
You can choose between two challenges and can complete them as a series of runs, brisk walks or a combination of the two. You can choose to run individually or in groups, outside in the fresh air or on a treadmill.
1 MILE PER DAY
Our beginner's challenge is great for anyone starting out on their fitness journey, or those trying to ease themselves back in. Enjoy a steady improvement in fitness throughout the month and achieve running more than a marathon over the course of 30 days!
5KM PER DAY
If you are looking for a bigger challenge, why not try our 'experienced' 5km per day challenge. Sound easy? Then consider it as running more than 3 marathons in just 1 month!
DARED TO BE DIFFERENT
If either the 1 mile or 5km DARED options don't suit you then why not take on DARED To Be Different and come up with your own challenge to Do A Run Every Day in June. Perhaps you are looking for something a little more challenging than running 5K a day; or hesitant about committing to run 1 mile a day; or you want to start at 1 mile and build up to 5km a day?
DARED To Be Different gives you a blank canvas to set your own challenge, based on your own needs, capabilities, and availability. As long as you commit to Do A Run Every Day you can set the distance, whether its 1 mile, 5km, 10km or a build-up of distance each day.
Who can enter?
Anyone can enter! Whether you are an experienced runner looking for a challenge, or a beginner, DARED is a great way to improve your fitness.
You can take part in DARED as an individual, or as part of a team. Sign up as part of your school, university, organisation or sports team. Encourage your colleagues, family & friends to sign up and join our DARED community.
Who will you 'dare' to sign up?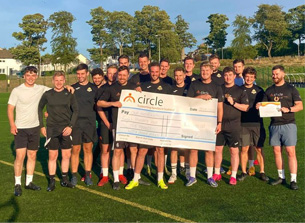 Want to become a DARED 2023 Champion?
Our DARED Champions will work alongside us to host a successful event and use your positivity, expertise and support to inspire others to sign up, participate and donate, to help us raise as much money for our families as possible. Please be assured though that becoming a DARED Champion will not require any more time than you are comfortable giving the event. As always, any support you can provide will be very much appreciated.
Hear from our DARED 2022 Champions about why you should sign up: