Here's what we got up to over the festive period at Circle!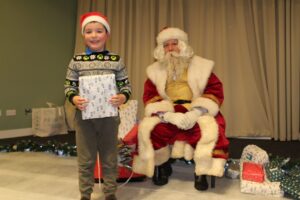 The festive season can be particularly hard for families living in the most disadvantaged areas of Scotland, meaning that Circle's Family Outreach Workers are needed more than ever. Every year they go to extraordinary lengths to provide emotional and physical help to families throughout Christmas and New Year.
The build up to Christmas and New Year is an incredibly busy, exciting but also stressful time for families we support. Over the month of December the teams had a lot going on to make sure families had fun leading up to the holidays and that they had the Christmas they deserved.
From Christmas parties, to collecting donations and delivering presents to families, to Christmas card competitions, here's a short update of everything we got up to over the festive period at Circle.
Christmas Activities:
FABI Christmas party: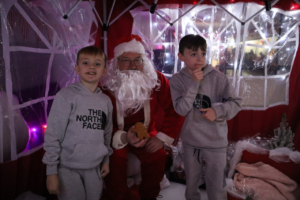 Families supported by our FABI Team enjoyed a wonderful 'Elf Themed Party with lots of fun activities to take part in, including gingerbread decorating and of course a visit from Santa.
There was also the opportunity to get 'Portrait Caricatures' drawn at the party and all the kids and families went home with their own individual caricature of themselves! Thanks goes to Bellshill Community Council who donated funds, and to an individual who donated to our own FABI team raffle. All proceeds went towards the overall cost of the party.
Harbour Christmas party: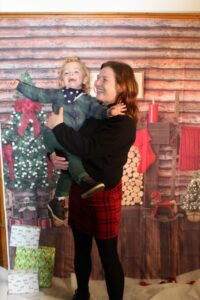 Our Harbour Team held their first in person Christmas Party since Covid and it was a huge success! 18 families attended the party, and they enjoyed doing arts & crafts, party games, decorating cakes and cookies and we even got a special visit from Santa Claus!
A huge thanks to Free Cakes for Kids Edinburgh, Morrisons Ferry Road, Pizza Geeks, Asda and Santa Visits Scotland for providing donations and helping make the Christmas Party such a huge success!
Christmas donations: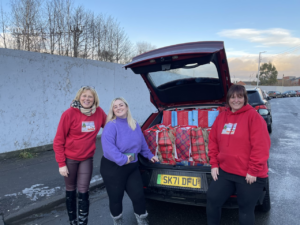 We are hugely grateful for the donations of gifts that we have received this year to help give our families the Christmas they deserve.
We have been overwhelmed with gifts from many local organisations and wanted to say a huge thank you to St Serf's Church, Hazelhead Home Care, Call-in-Home Care, White Studio Hair, Glasgow Spirit of Christmas, St Mary's for all and the NSPCC and others for such generous donations!
Christmas Card Competition: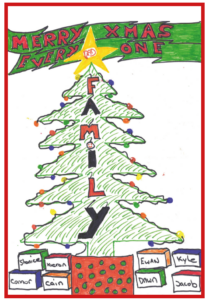 Every year, children and young people from across all of Circle's projects are invited to enter our Christmas card design competition.  This year, we received over 20 fabulous entries, but the Melbourne Family were chosen as the winner of our 2022 Christmas card competition, by our patron, David Tenant.
A huge well done to Dawn, Kyle and Ewan (the Melbourne family) who are supported by Circle's Harbour Project!
You can watch the video from David Tenant here
---
If you'd like to support our Winter Campaign, to help families cope with the cost-of-living crisis, you can make a donation here: https://cafdonate.cafonline.org/1972#!/DonationDetails
You can read more about our Winter Campaign here: https://circle.scot/support-circles-winter-campaign/