Challenge Poverty Week:
As part of #ChallengePovertyWeek, we will be aiming to raise awareness of the impact of poverty on the families we support, particularly in relation to the rise in the cost-of living as it pulls more and more people towards poverty. Our families have been discussing the various ways in which they've been impacted by the cost-of-living crisis, and we will be sharing them in line with some of the themes of Challenge Poverty Week, which can be viewed here: https://www.challengepoverty.net/themes-and-asks/
Circle works to mitigate the devastating effects that poverty has on families and children. Circle are committed to helping reduce the impact of poverty on the communities we support, and we will be taking part in #ChallengePovertyWeek2022, so we can help start to #TurnTheTide on the injustice of poverty in Scotland.
Head to https://www.povertyalliance.org/ to find out how you can help #TurnTheTide.
Read more about child poverty in Scotland here – https://cpag.org.uk/scotland/child-poverty
---
Cost of Living Crisis:
It's #ChallengePovertyWeek, and today's theme is the cost-of-living crisis.
The soaring increases in the cost of food and groceries means the average annual shopping bill will increase by £380, and this is only expected to worsen, having detrimental impact on our families. Vegetables have become 9% more expensive in the last year, while fruit is up 7%. That's slower than the rate for meat, which has risen by more than 11%.
"It's been a real pressure with rising prices. I reckon my food bill has gone up by a third. I'd like to batch cook and freeze things but that increases my electricity bill. It's tight providing food for the family, I try to buy sensibly, using all the yellow labels but the prices mean there's no scope for any unexpected bills like when the washing machine broke. I worry about the winter and how we'll cope."- Parent
To help each other cope with the rising food prices, Circle's families have been working together to create their very own recipe book containing healthy meals for under £5.
This gave families the opportunity to learn from each other about how to make meals on a budget and where to find a bargain, whilst encouraging each other to make healthier food choices and most importantly having fun along the way!
You can read the read the recipe book here: https://circle.scot/wp-content/uploads/2022/09/Recipe-Book.pdf
---
Energy and Environment:
October is an important month for energy bills, after Ofgem announced a new increase to the energy cap to £3,549- an increase of 97% compared to last October and 27% compared to the last price cap period in April-September 2022. This will mean pre-payment meter customers, who are often the most vulnerable will see an even more punishing increase.
---
Health and Care:
With so many households struggling to cover their bills, and with the increasing cost of food, many families are struggling to afford basic everyday necessities.
Products like toothbrushes, nappies, soap, shower gel and shampoo are everyday items that are becoming out of financial reach for many, as hygiene poverty increases.
Hygiene poverty is a hidden output of the steep rise in the cost-of-living, with nearly three quarters of those going without basic personal care products experiencing this for the first time this year.
The below graphic shows an average increase of some everyday basic hygiene products, including toilet paper, nappies, shampoo, and other household items, demonstrating the extra financial impact this is having on families shopping.
*Please note, these are averages of products, and we are aware prices may vary
The Poverty Alliance
#TurnTheTide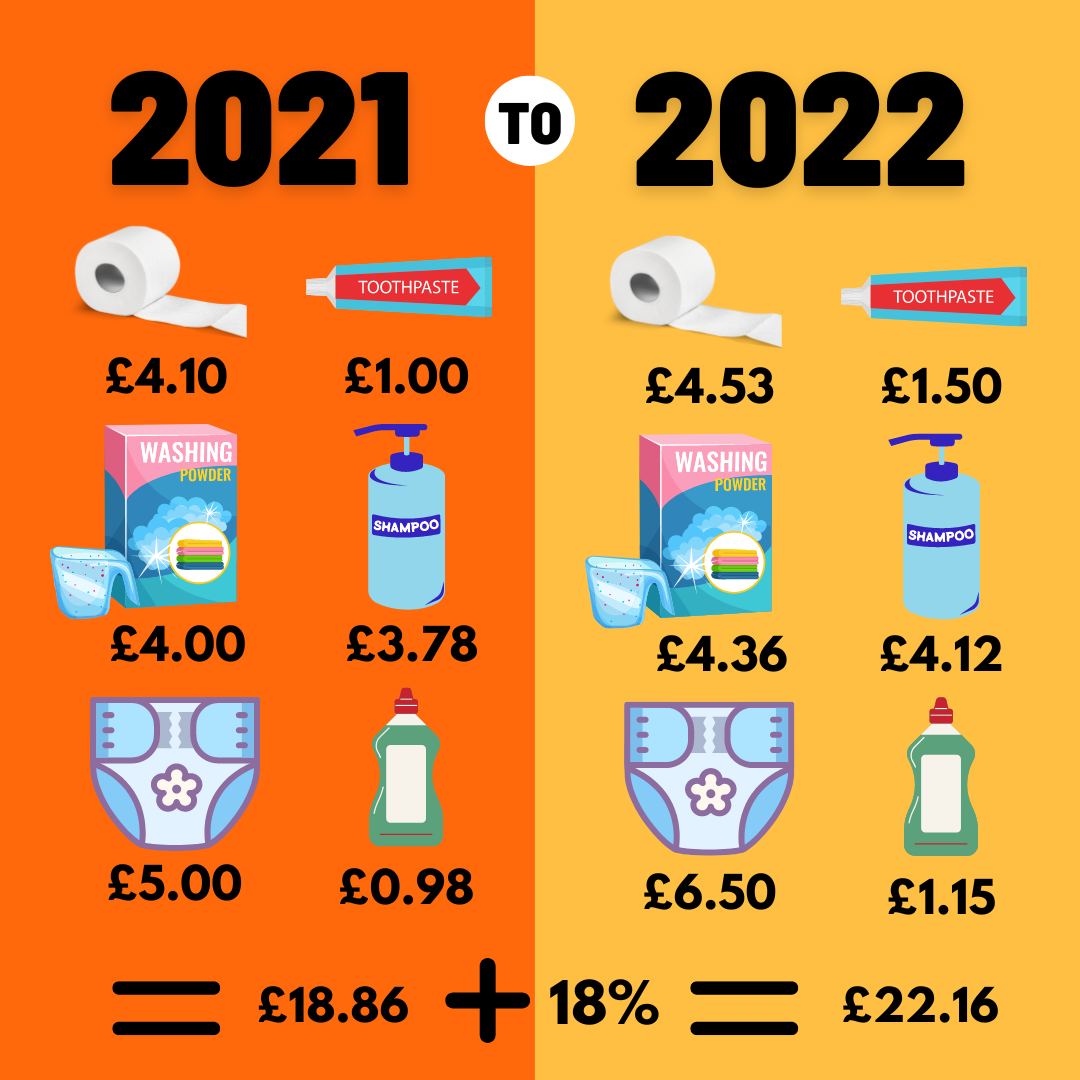 Although
Challenge Poverty Week
has come to an end, Circle want to emphasise the importance of continuing the conversation around poverty to help
#TurnTheTide
against injustice in Scotland. This winter will be one of the harshest yet for many families, and we need your support to help families cope with the detrimental impact of the cost-of-living crisis.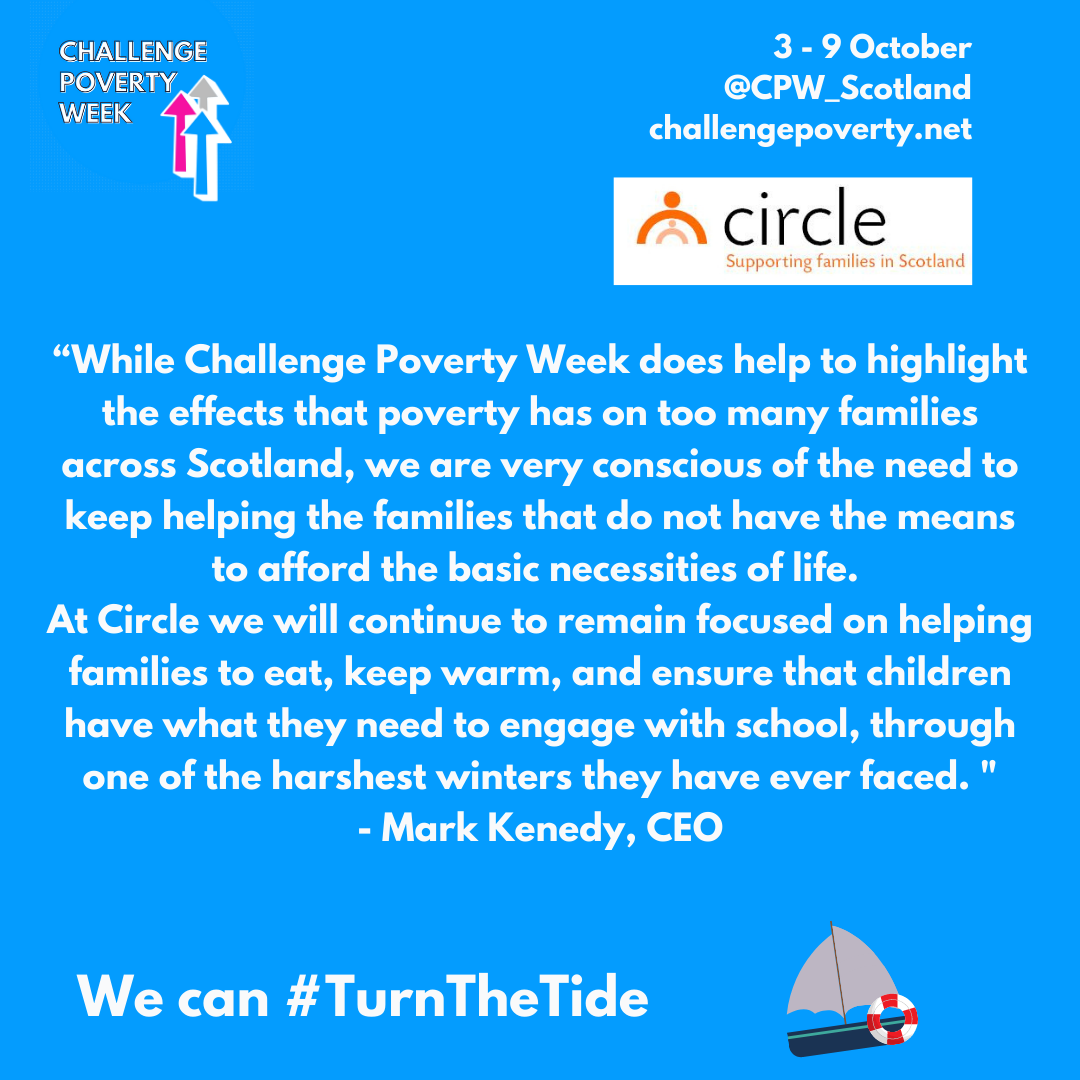 ---
Keep an eye out for our winter campaign launching over the next couple of weeks.