We are delighted to be able to welcome student placements back to Circle following a pause during the pandemic restrictions.
The first of four students (three from The University of Edinburgh and one from Edinburgh Napier University) has joined us this week and the rest will arrive in the next week or so.
We look forward to supporting them through their placement and making their experience at Circle a positive part of their learning and development as social work practitioners. And as is now customary for all of our students we have asked Steven to introduce himself:
Hi Steven, can you tell us a little bit about yourself?
Hi, I'm Steven, 33 years old, I'm a Student social worker working in Circle's Harbour project for approximately the next 4 months, or 15 weeks, and I am studying for a Masters of Social Work.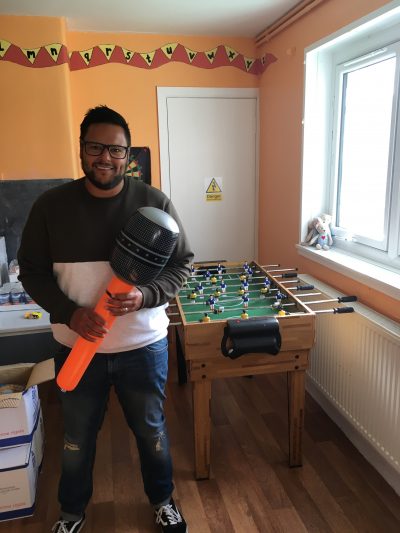 Before we start the serious questions I wonder if you could answer a little ice-breaker for us, if you could be any animal, what would you be, and why?
A penguin – I love penguins as I think they are great and funny creatures to watch, but also are very family orientated and are committed to supporting each other within their colonies – community driven.
What a great answer, I have to say the penguin parade at Edinburgh Zoo is one of my favorite things to do. And what are you passionate about?
Music playing, writing and listening. Sports, playing and supporting my local football team.
I won't ask you which half of the city you are loyal to… Now that our supporters know you a little better I wonder if you could tell us what inspired you to study for a qualification in Social Work?
Since 2015 I have worked within several roles working with adults with learning disabilities, and with children in residential care. This enabled me to experience the day-to-day support required within providing care for different groups of people, and through certain roles I was able to work alongside multi-agency teams consisting of; social work, police, housing officers, psychologists, mental health officer, positive behaviour support, external support services, etc. This opened my eyes to the roles and responsibilities required to support people by looking at the 'bigger picture' and how to address needs in promoting their welfare. I then decided to work towards a qualification in Social Work.
How long were you, or have you been, on placement at Circle?
At the time of writing, today will be day number 2 ????
We are so delighted to have you, and other students in general, back and working with us. As this is your last year as a student can you tell us what has been the biggest difference between studying and practicing Social Work i.e. did you learn or experience anything that you weren't expecting?
From my last placement and what I am hoping to gain from my placement at Circle is the ability to work with people and to put my knowledge, skills and theories that I have learnt and developed, into practice. I feel that you also start to learn about yourself when you meet different people and experience or hear people's backstory. It all helps to frame your thinking and future practice when working with others.
For anyone reading this that is considering studying for a qualification in Social Work what would your top three tips be?
Look after yourself and to consider self-care to ensure you are healthy physically and mentally as possible. i.e taking time out, exercise, family time, sleep, doing things you enjoy out with your studies

Also, to question and challenge (when appropriate) whether you are unsure of something or if something doesn't seem right or could be improved for everyone involved

To not be afraid to get involved with what opportunities arise within placement
And finally, with the experience you have so far, what one change would you make to the world around us that would make the biggest positive difference to the families you support, and why?
It would be for people to be more considerate and appreciative by acknowledging everyone is different through experiences, culture, religion, race, etc. With this in mind that society should be fair and equal for all erasing a 'class' type hierarchy society so everyone can access the same opportunities, and that's not depending on your family background and/or postcode.