As part of this months look into Circle's inspirational, but sometimes over-looked, work with Social Work students we were lucky enough to meet the staff, as well as some current students on placement, that make this project so successful. Read on for the second of two interviews with Circle staff members who were previously social work students on placement at, and were subsequently employed by, Circle: 
Hi Paige, can you tell us a little bit about yourself?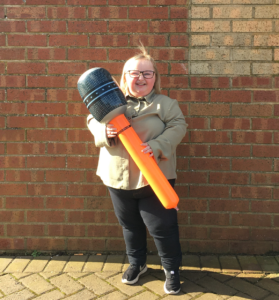 I'm Paige Reid (25yrs old) and I am a Family Outreach Worker with Circle's Harbour Team. I studied a BA Hons Social Work degree and I've been qualified since July 2018. 
Before we start the serious questions I wonder if you could answer a little ice-breaker for us, if you could be any animal, what would you be, and why?
A dog. They don't judge and they love you no matter what!
Great answer, who doesn't love dogs?!? And what are you particularly passionate about?
Eating good food, spending time with my family and visiting new places. 
Now that our supporters know you a little better I wonder if you could tell us what inspired you to study for a qualification in Social Work?
Having a disability I often throughout my childhood had to rely on others to help me achieve and put in place adaptions to make my life easier. I felt I wanted to make that positive difference to others life.
How long were you, or have you been, on placement at Circle?
I was on placement with Circle for 6 months
What was the biggest difference between studying and practicing Social Work and did you learn or experience anything at Circle that you weren't expecting?
I feel the biggest difference is being able to put into practice theory you have learned. It gives you the ability to meet people and understand how to support them in the best way possible. It also allows you to further develop skills i.e. communication.
For anyone reading this that is considering studying for a qualification in Social Work what would your top three tips be?
1. Organisation is key, being able to prioritise placement with studying will lead to a successful experience
2. Don't be afraid to ask questions- asking questions is the best way to learn and understand
3. Enjoy the experience and make the most of all supports provided
Was it a challenge to make the transition from being a student to a professional and what has helped you most during that change?
I feel having the ability to come back to work at Circle quickly after qualifying made this transition less daunting. I felt fully supported throughout the whole process. When you are a student you are protected in terms of having supervision and support on a regular basis. As a qualified worker you have support and supervision however you have had the experience that should make the transition easier.
And finally, with the experience you have so far, what one change would you make to the world around us that would make the biggest positive difference to the families you support, and why? 
More money to be spent on resources to meet the needs of the families we work with.