With just a month to go until the start of Circle's 5th annual DARED (Do A Run Every Day) Challenge, we thought it would be a good time to speak to some of our previous participants and share their memories.
Harry Wright was one of our top fundraisers in 2020, running over 275km and raising over £1,000 in just one month to support local children and families.
His DARED story is one of determination, commitment, a growth mindset, and a belief that everything is possible if you set your mind to it. If you're considering signing up to DARED, Harry's story might be enough to convince you of all the benefits and positive impact the challenge has for you and for others.
"I discovered The DARED Challenge through my (at the time) maths teacher, Mark Fletcher. He was the one who started DARED, and his encouragement led me and a few others of my classmates to participate in the fundraising event.
From Beginner to Half-Marathon Runner
I wasn't a runner before I started doing DARED – in fact, I did very little in the way of exercise. Through doing the fundraiser, it showed me what I was physically capable of, and encouraged me to do better.
Although I started out doing the 5k run daily, within a few days, I started running for longer distances, and then longer and longer. By the 15th June, I was running over 10km a day. I ran around Arthur's Seat one day – 15.8km – and then another day to Cramond and back (18.5km). Then, I ran to Portobello and back (18.8km), and then ran to Fairmilehead and Mortonhall – 21km! That was one of my longest runs ever – 21km! Crazy!
By the end of June I had done three separate half-marathon runs, as well as several 10k-20k runs. At the point I started DARED, the most exercise I would do in a week was 50 minutes of low intensity swimming. Now I'm doing 10k+ runs twice weekly!
Fundraising Superstar
I didn't set out with the goal to raise as much money as I did. At first, it was just family and friends that I mentioned it to. However, a couple of weeks into DARED I mentioned to someone in the church that I go to that I was doing it, and word spread rapidly that way, resulting in the bulk of the fundraising I achieved. In the end I raised over £1000 on my JustGiving Page and was one of the top fundraisers for the whole event.
DARED 2020 ended up raising over £30,000 for children and families across Central Scotland and I know that my money provide children with games, books and outdoor activities as well as IT equipment and learning materials to help them with school when they couldn't attend. Families got vital food supplies, help with energy bills, phone credit and experienced, qualified support to help them with the crisis's they were in, and made worse by Covid.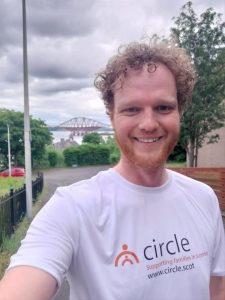 Mark Fletcher, founder of The DARED Challenge shared his thoughts on Harry's story;
Harry's story is truly inspirational through so many lenses. He has shown how you can surprise yourself through the power of determination when you try something new.

 He has found the physical and mental well-being benefits of running and will always have the confidence to lace up his trainers for a few miles whenever he needs or wants to.
Harry is now thriving in his first year at the University of Oxford, and hasn't stopped running since. Due to his exams taking place in June, Harry may not be able to manage to run DARED again, however he may change his mind as he just can't stay away!
If you're considering signing up to take part in DARED 2022, hopefully Harry's story is enough to inspire you to take on the challenge and make a difference not only to yourself, but to children and families supported by Circle across Central Scotland.
Get your tickets now: https://www.eventbrite.co.uk/e/the-dared-challenge-2022-tickets-296799012837
Or if you have any questions get in touch with our events team: kirsten.wales@circle.scot
You are hereby DARED to Do A Run Every Day this June for local children and families