Batch-Cook Bolognese
As families try to survive during times of crisis and often extreme financial pressure one of the biggest problems they may face could be putting food on the table. And not only that but ensuring that the food they serve is healthy. It can be very easy to resort to cheap and often unhealthy mass produced food. We've all done it. Especially when time is tight and families don't have the space to be creative.
So, understanding this problem all too well, a group of Circle families have come together to offer some help. Here is the first of what we hope will be many guides to cooking healthy and cheap meals, in batches big enough for leftovers to be frozen and used as and when you need. Enjoy.
---
Picture this…
you have been awake since the dawn of time, or so it feels. You've done the school run, been to the shops, cleaned the house and sat down for all of the blink of an eye and its time to go collect the kids from school, take them to their after school activities, by this point your feet are on fire, your hair looks like you've never looked in a mirror and your eyes have more bags than Tesco. You grab the little ones, listening lovingly to the most long winded story about a blue crayon as your soul slowly escapes out your ears for a quick nap and you hear "what's for dinner?"
*Gulp!*
We all know this feeling of wanting to give our kids a nice meal but being so shattered from, well, being a parent that all we can think about is takeaway.
I use a handy hack, that doesn't break the bank, is nutritious and makes a home cooked meal a lot simpler that could save some pennies in the mean time. Batch cooked Bolognese is my method. I make a Large amount of it and potion it into individual portions in either sealable tubs or zip locked bags for freezing. When I need any for lasagne, spaghetti or other pasta dishes its as simple as defrosting it in the microwave boiling some pasta and grating some cheese and off you go.
---
What You Will Need
For this method you will need;
A blender or food processor
A large pot
A large roasting tray
---
Ingredients
2 packets of salad tomatoes -£2.70 total, £1.35 per pack
2 packets of baby plum tomatoes -£1.70, £0.85 per pack
2 packets of cherry tomatoes -£2.50, £1.25 per pack
3 medium sized red onions – £0.69 for a bag
4 bulbs of garlic -£1.98 for 6 bulbs, £0.99 for pack of three bulbs
3kg beef mince – £17.16 total, £4.29 per pack of 750g beef mince
Herbs and spices; Tarragon, Oregano, Thyme, Smoked Paprika, Rosemary, Marjoram and chilli flakes
Extra virgin olive oil
As I have always gone by taste its hard to quantify the amounts of the herbs and spices used, I used only a large sprinkle of the rosemary and thyme but about half a jar of tarragon. The good thing about this recipe is that it is a base and fully customisable to your own tastes.
---
Method
Part 1 Sauce
Pre-heat your oven to 220 degrees Celsius (200 if fan assisted)
Line the large roasting tray with foil
Chop the salad tomatoes in half and place in the tray
Put the cherry and plum tomatoes on top and drizzle with some oil
Peel 2 bulbs of garlic and place the peeled cloves in the tray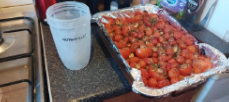 Add a fair amount of all the herbs and spices
Drizzle with a little more oil and lightly cover with foil
Place in the oven for 20mins
Once roasted, like above, place to one side to cool safely.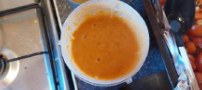 Once cooled they are ready to be blended up in the food processor.
At this point you have the basic sauce.
*Hint wait until you have browned the mince to start processing the tomatoes.
Part 2 Bringing it together
Peel and slice the onions add them to the large pan on a low heat with a drizzle of oil. Bring it to a high heat for a minute or two while keeping stirring.
Turn off the heat then break the mince into the pot
Brown the mince at a medium heat, once browned turn off the heat again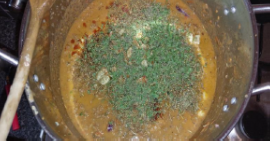 Add your puréed tomatoes and stir well
Once this is all mixed well add the remaining 2 bulbs of garlic peeled and crushed
Also add in more of each herb and spice to taste, bare in mind it's a large batch so will need a bit more than you think.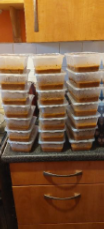 Part 3 Simmer and Cool
Allow this to simmer on a low to medium heat stirring very often for around 20-30mins
Of course taste often also to see if you want to add anything
Wait for it to cool then portion it up, I find about 1 full ladle is enough for one portion.
Seal the portions and place in freezer.
Part 4 Wrap Up
This is such a simple yet versatile dish, it is all fresh, it has no added anything and can be used as classic spag bol, lasagne and many other pasta dishes.
Once frozen defrost fully before cooking, to save some space using sealable freezer bags is a great solution.
I got 21 portions out of this dish and at around £35 total this works out at £1.66 per portion!!! Who can argue at that?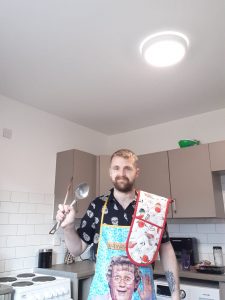 Todays Batch-Cook Bolognese was brought to you by Jamie, Bryan and and Johnnie.
---
If you have a recipe that is cheap, cheerful and healthy that you would like to share with us then please get in touch – Darren.Pike@Circle.Scot