FABI Group Work
Despite the challenges inherent in providing support to our families through these uncertain times FABI groupwork has been taking place via ZOOM. This groupwork, funded by the Tampon Tax Community Fund has enabled us to develop a programme of support for women focusing on improving their health and wellbeing.
Our first group work sessions have been taking place focusing on 'healthier lives.' Conversations and sharing experiences with each other have been taking place to promote and encourage healthier sleep patterns, budgeting, nutrition and cooking for women and their children.
Women and families have been provided with their own' 'pizza kits' so that they can prepare their 'masterpieces' together as a family.
Here is one I made earlier…Kirstin, our student social worker had fun preparing her own pizza ???? although one of the downsides of Zoom is that we all didn't get to have a taste test!!
Before and After ????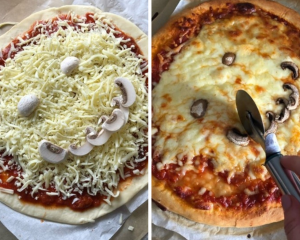 Our next group work sessions focusing on 'Managing Stress and Anxiety' begins on 7th December. We look forward to welcoming the women to this group and sharing positive strategies and techniques in addressing the impact that stress and anxiety has on wellbeing.
Harbour Group Work
The Harbour team have been busy over the past few months developing new ways to offer our support in light of Covid. During lockdown we started using Zoom as a platform to connect with the families we support and this proved popular.
Families expressed they would like this to continue so as an additional support we are now offering a parent's zoom session once a week and a family activity session on alternate weeks. Our Dads Shed project has also gone online and recently they have been engaging in make your own 'fakeaway' cooking sessions.
Themes for sessions have included yoga, a family dance session, self care, family baking and recently a Halloween party! Families were provided with pumpkins and carving tools to create their own pumpkins and a competition was held. Here's a picture if our amazing winning entries: