Circle Staff Development Day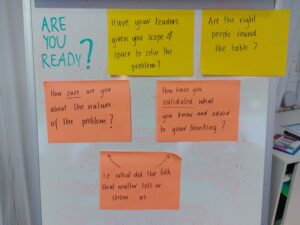 Circle held its second in person development day at Livingston FC stadium with input coming from the good team from the Promise Scotland School of co design team.
An interactive and fun day was led by Rachael Hood making design principles not only easy to understand but usable by all present.
We learned the history of the Independent Care Review and how the Promise came into being and how systems redesign was a crucial element of involvement and participation not just by families using services however the crucial role staff have a surfacing issues and exploring the challenges we all face in a system that is not serving anyone, especially after the pandemic.
Feedback from staff included:
"the staff from the Promise were very good and Rachel the main presenter/facilitator was exceptional. She is obviously skilled at reading the room and adapting her approach to cater for it."
"I certainly learned a  lot and particularly liked the double diamond model."
"I'm sure like all training of  this natures some people will  see it as more relevant to them as others,  but I do think it will be useful to all these who are thinking about systems change , or who will be involved in tests of change either internally at Circle or in multiagency partnership work with other being the lead."
A huge thank you to The Promise Scotland for delivering such an insightful, educational and interesting staff development day.
---
Want to know more about Circle's work?
Project Annual Reports: Circle have always been keen to share our experience and knowledge and so these reports are also used in reporting to partners, funders and local authorities. Here is a link to all of our 2021 reports :