We wanted to identify what families experience as challenges, how important framing the problem is and to what extent 'problems' or 'challenges' were resolved by the provision of whole family support.
Dr Gary Clapton from the University of Edinburgh Social Work Department supported a knowledge fellowship to evidence the impact of whole family approach. Thirty five out of forty families agreed to take part. Ten parents were interviewed and views from children and young people were gathered via questionnaires. Data was gathered at the beginning of the support and nine months into the support.
Whole family support is defined through Circle's practice principles as:
Identifying individual and family strengths and solutions
Working with the whole family
Seeing the whole person (social pedagogy)
Working across systems e.g. parent/child, family, school, community, society
Building social capital to sustain change
Ethics of care
Positively involving fathers
Strengthening families improves children's wellbeing
The whole family approach is delivered on an assertive outreach basis through one-to-one work with family members in their own right, group work with family members, advocacy and through modelling (social learning).
What we found out:
There were numerous sets of challenges for families reflecting the complexity of lived experience; some could be identified as themes across families (see table below).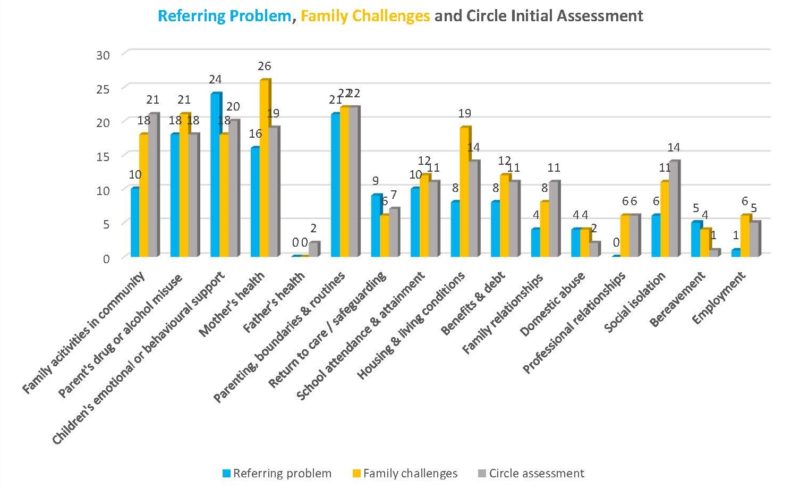 Referrers (21%), parents (22%), and family outreach workers (22%) all broadly agreed to the same extent that parenting support was a top priority.
Referrers however tended to see children's emotional or behavioural support (24%) and parental drug or alcohol use (18%) as the main priorities at referral.
Parents tended to see mothers' mental health (26%), parental drug or alcohol use (21%) and housing and living conditions (19%) as the main priorities, followed by children's emotional and behavioural support (18%).
If housing and living conditions (19%) and benefits and debt (12%) are added together to represent family resources (31%) this becomes the top priority of the families.
Circle family outreach workers (21%) and parents (18%) both thought family activities in the community and social isolation (14% and 11% respectively) were the next most important.
Fathers' health was under-reported on at the point of referral (2%).
Experiences of domestic abuse were also under-reported at the point of referral (4%).
During the interviews parents identified multiple layers of relationship difficulties (within families, communities and with agencies); poor health, experience of stigma and substantial loss came up often.
Of the 'problems', 43% of families resolved all the 'referring' problems, 40% resolved most or part of their problems and 17% had resolved some of their problems, but had one or two problems with no change at nine months.
So what actually worked?
Emotional support and commitment, e.g. going the extra mile
Practical and material support, e.g. bedding, furniture, cooking, being 'chummed'
Connecting with GPs, nurseries, schools, welfare benefits, housing and childcare
Connecting with drug, alcohol and mental health services & checking your understanding
Ensuring parents' voices were heard when social work were involved
Listening and communicating better in family relationships
Improving your confidence as a parent and helping with boundaries and routines
Encouraging time spent with children and active listening
What was important about the Circle Workers?
| | |
| --- | --- |
| Having someone to talk to | They are genuine and not 'judgy' |
| They are straightforward and positive | They are there through ups and downs |
| They get on with children too | |