Everyone at Circle would like to wish all the families we are working with as well as our staff, supporters, volunteers and donors a happy and positive New Year. We hope you have all started 2021 as best as can be expected in these trying times.
Sadly, the continuing crisis and uncertainty around the global COVID-19 pandemic has meant that the start of 2021 is going to be more challenging than we had hoped for. However, regardless of the difficulties created by the pandemic, Circle remain committed to providing support to some of the most marginalised families in Scotland. By following the latest government guidelines whilst using a mixture of online and, where safe and necessary, face to face work, we will ensure the safety and wellbeing of all the families we support as well as our staff.

The families that Circle work with were already facing a range of significant challenges before COVID struck and all the research conducted since it did has proven that these families are now being disproportionately affected by repeated lockdowns, distancing measures and the resulting financial implications. The families we support are therefore facing heightened struggles with poverty, stigma & shame, physical & mental ill-health, parental imprisonment, domestic abuse, precarious incomes and persistent poverty. They will also be excessively affected by the recent re-closure of schools and restrictions impacting other statutory and voluntary sector services. Therefore, the vital services Circle provide are an invaluable lifeline for these families and we are committed to continuing to provide them.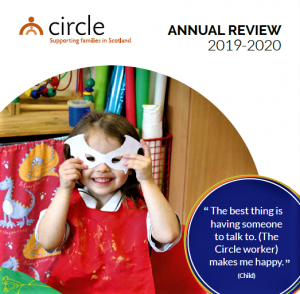 While we are acutely aware of the current challenges our families, staff and projects are facing, we are also continuing to remain optimistic and plan for the future. We are dedicated to the provision of more and better services and we think the best way to do this is to work ever more closely with our beneficiaries and partners to gather their input in order to improve our work. One reason for renewed positivity is Circle's recent success in securing additional funding. This will enable us to introduce new services for fathers and young people in Edinburgh as well as recruit a new Children's Resilience Worker to enhance our East Lothian team. We also have three new students joining various projects in order to learn from, and add to, our experience of supporting families in crisis. Watch this space for detailed updates on these changes as they develop.
We hope we will be able to share further positive stories with you over the next year and we will of course keep you updated on the progress we are making. If you, or someone you know, would like any more information on any of the work Circle do or are interested in working with us to improve the lives of children through strengthening families, please feel free to get in touch. In the meantime, I hope you enjoy our most recent Annual Review, which was a little delayed due to COVID, but gives a great a snapshot of how Circle has performed recently and the work we have been able to achieve. I hope you enjoy it.
Happy New Year!
Mark Kennedy
Chief Executive