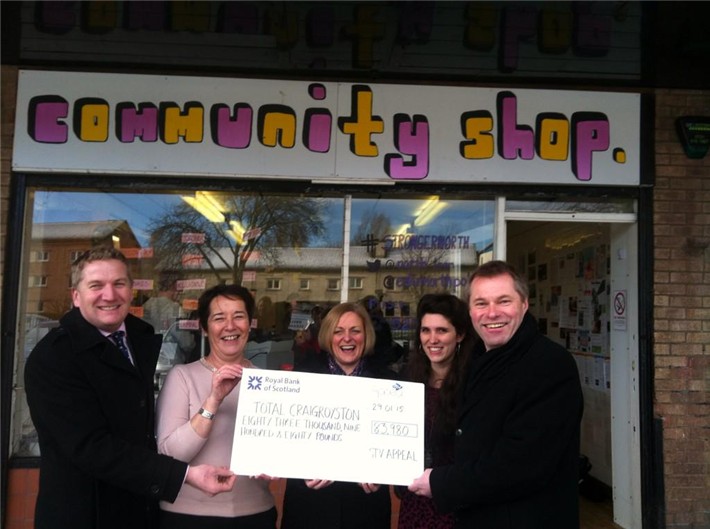 STV CEO and trustee of the STV Appeal Rob Woodward and Chris Wilson managing director, Retail and Private Banking, RBS, presented the cheque of £83, 980 to Total Craigroyston outside the Muirhouse Community Shop.  The STV Appeal raised £2.6million in 2014 and £305,689 of this was raised by RBS branches.
Circle played an instrumental role in helping secure this funding by assissting with the application process. Circle works closely with the Total Craigroyston partnership, and is delighted with the funding they have received.
Total Craigroyston is an initiative set up by the Edinburgh Partnership to improve outcomes for children and families in the neighbourhood around Craigroyston Community High School.  The project is doing this by taking a three pronged approach:
-strengthening services that are open to all like health, early years and schools
– strengthening support for families, ensuring that help and support is available when it is needed and building on the strength of the community
– supporting local people to organise their own activities and being involved in what happens in the area.
Working in partnership with Circle and Link-up Muirhouse, an idea has been developed to establish a Community Leadership College.  This will help Total Craigroyston expand leadership capability amongst local residents.
The future looks bright for the Craigroyston community!